Fluctuating roller feeder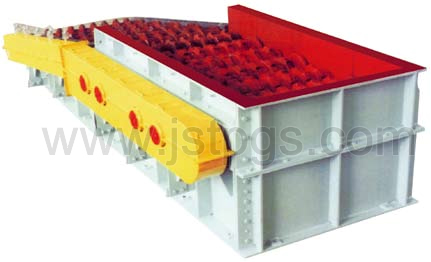 The machine is a composite device with both feeding function and screening function.It is specially designed for heavy crusher continuous feeding.After screening,it reduce the burden of crusher.Avoid crusher blocked, and improve production efficiency and reduce energy consumption.
Product feature
◎After Screening out qualified fines and mud from the raw material,it improve the production capacity of the crushing system, reducing the crusher wear, work more reliably.
◎Feeding Quantity can be automatically adjusted according to the load of the crusher, crushing full efficiency.
◎This machine is suitable for screening large bulk materials, there are tick under mud screening device,it is also for sticky materials.
◎This machine has a dual function, less space, no additional equipment purchase costs, for silicon aluminum ore crushing machines.
| | | |
| --- | --- | --- |
| type | 1252 | 1552 |
| feeding capacity(t/h) | 120~180 | 200~350 |
| groove width(mm) | 1236 | 1526 |
| groove length(mm) | 5160 | 5160 |
| max inlet size ≤(mm) | 600 | 600 |
| discharge size(mm) | ≤50 | ≤50 |