Heavy Series Apron Feeder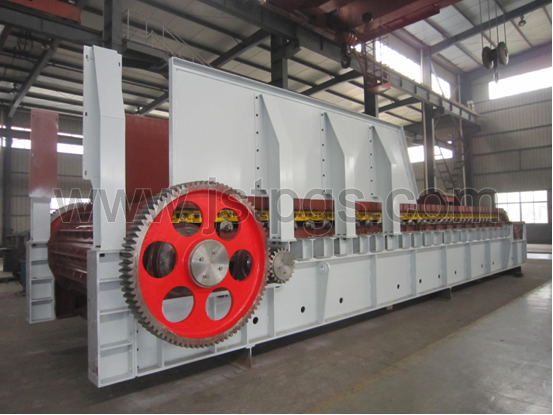 Heavy plate feeder can be used for horizontal or inclined direction from the warehouse to the crusher, conveyor or other work or loose mechanical transport all kinds of bulk-like material. Widely used in building materials, metallurgy, mining and other industries, material handling or continuous production process indispensable equipment, it has the following main features:
1 .YVF2 series frequency speed adjustable motor and gear reducer directly reduction driving, simplifying the structure and improve the driving efficiency.Frequency control devices can realize smoothly feeding capacity, power configurations and constant torque output,adaptive load lifting, material changing conditions, so that equipment feeding material evenly, smooth, conducive to system automation , widely meet different range production needs.
2 .Driving device without foundation, adopt single point floating support way, suspended directly on the main shaft, can ensure the installation accuracy. Reducer adopt cross planetary gear with straight hardened modular, sump lubrication, braking protection to ensure that the anti-lock switched; the output shaft end part use locking coupling, can better ensure concentricity, the driving device can greatly reduce feeder lateral dimensions.
3 .Main shaft and bearings and chain wheel all using Ledger and withdrawal sleeve connection, it can avoid the stress produced by the keyway, no damage to the journal, but also convenient handling and maintenance
4 .Driving chain wheel using removable drive drive gear block, chain is made of alloy steel chain, safe and reliable, easy to use, no need frequent oiling the chain. Trough with a new board design, good rigidity, impact resistance, good airtight performance, seamless material, spreading materials, deviation and so on.
5 .Conveying plate adopt Mn steel,welding structure. Using precision welding tooling and machined to ensure the accuracy of the slot between the plates overlap, no material leakage. The grove plate with high strength and stiffness, wear resistance and durability, ensure more than three years life.
6 .Using high-strength alloy steel in chain wheel material and quenching treatment, with good wear resistance.
7 .Supporting wheels and Drag chain wheel adopt 40Cr material drag hardening heat treatment, the lubrication is Glycerol lubrication,one-time oiling can use one year, it can use grease gun when maintenance.
8 .Supporting structure of chain and groove plate using rollers and idler roller bearing modular structure, stiffness, impact resistance, low running resistance,by feeding segment with cushioning device can slow down the impact of the slot board material, extending slot board life; improve the whole life.
9. the chain impact load, extend chain life. At the same time the feed opening set bearing device which can slow material impact on the slot board,extend board prolong life.
10. According to actual situation,it can select horizontal or with large feet landing, reduce construction, maximum angle up to 25 degrees.