2PGC series double roller crusher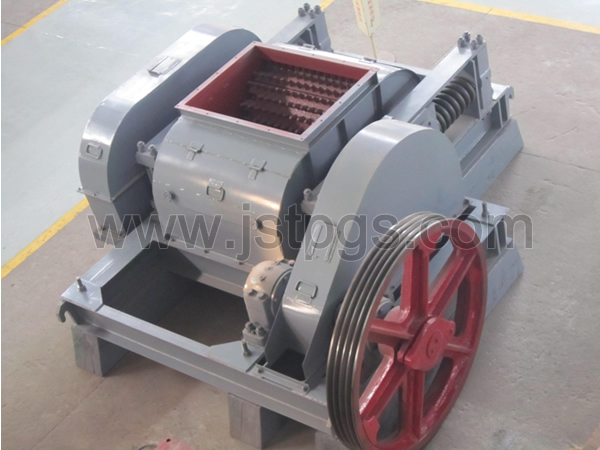 Double roller crusher is used in mining, building materials, chemical industry, metallurgy and other industries, it can crush various minerals, rocks, coke, coal, slag, slag, refractories and other materials for the following medium hardness, crushing operations.
Less power consumption, save energy
Activities roll and fixed roll adopt coupling link, to avoid frequent phenomenon belt updates.
By adjusting the gap between the two rollers ,crusher can freely adjust the crushing size, increase production capacity.

work principle
Fixed roller and activities roller work activities is driven by motor through motor reducer, belt, material to be broken between the two rolls from the inlet to fall, along with two rolls inward synchronous rotation, so that the material is squeezed, and grind was broken by the lower rack from the plane.

technical parameter
| | | | | | | |
| --- | --- | --- | --- | --- | --- | --- |
| type | feed size(mm) | discharge size(mm) | capacity(t/h) | motor power(kw) | weight(t) | dimension(mm) |
| 2PG400×250 | <35 | ≤2-8 | 2-10 | 2×5.5 | 1.3 | 2110×870×810 |
| 2PG610×400 | <65 | ≤2-20 | 5-20 | 2×15 | 3.9 | 3510×1420×1030 |
| 2PG750×500 | <75 | ≤2-25 | 10-40 | 2×18.5 | 9.5 | 4210×1630×1260 |
| 2PG900×600 | <90 | ≤2-25 | 15-50 | 2×22 | 11.0 | 4805×1830×1460 |
| 2PG1000×700 | <100 | ≤3-30 | 20-65 | 2×30 | 14.9 | 5310×2175×1595 |
| 2PG1200×800 | <120 | ≤3-35 | 35-80 | 2×37 | 25.5 | 6290×2270×1870 |
| 2PG1500×800 | <130 | ≤3-45 | 50-120 | 2×75 | 33.7 | 7460×2410×2290 |
| 2PG1600×1000 | <150 | ≤3-50 | 60-140 | 2×90 | 41.2 | 8220×2680×2475 |
According to the above output medium hardness determination of Broken limestone