Middle type Apron Feeder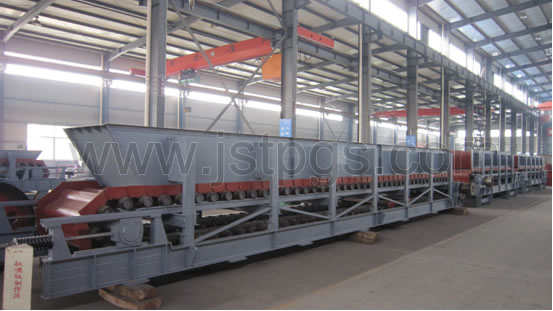 Jiangsu Tianpeng apron feeder is constitute of reducer,head part, rack part, operating part,tail tension devices and other components.

1 .Driving device
Using frequency control speed motor and planetary gear reducer.
This apron feeder can proceed speed operations, generally appropriate speed range is 0.06-0.08 / S. Empty is not allowed inside the silo, when the incoming material is a little, intermittent operation is allowed, the bulk material is not allowed to hit the red trough, to avoid deformation and sheet fed machine skew.
Planetary gear reducer speed ratio is large, the output shaft torque is also larger, which can directly reduction driving, suitable for low speed and heavy equipment start.
Driving device set left and right two kinds of drive types, depending on the needs and selection of process layout.
2 .head part
The head part adopts a structure in the form of Cogging block part type, and the number of teeth is 10.5, 21 grooves. Easy assembly and disassembly, interchangeability, increasing the number of meshes. It can enhance the role life, and convenient maintenance.
This feeder set brakes in driving device, safe and reliable, effectively preventing the reverse operation.
3 .Rack
The rack adopted a new structure, simple structure, and the strength, rigidity, simplified construction, easy process layout and installation.
4 .operation part
Operation part is the key part of apron feeder,it adopted newer technologies in design and manufacturing technology.Using a suitable pitch to ensure that smoothly Meshing and operation.
Traction Chain - Bulldozer with track chain. The main parts of selected low-alloy structural steel, and subjected to heat treatment means certain, will help improve manufacturing quality, can effectively improve life.
supporting structure - wheel adopt rolling bearing structure,which is conducive to reducing the running resistance and reduce power consumption. The structure is easy for maintenance.
Design of conveying chute uses a rational base gap and ensure the overlapping backlash floor and side panels overlap, which can effectively prevent loose material leakage phenomenon
5 .Tail tension device
Using spring tension device, compact structure, tail is disassembly structure, easy to install bearing seat. Tail bracket is directly installed on the machine, easy to install.
6 .The rack is simple structure, good strength and rigidity, convenient for manufacture and installation . Rack legs is direct landing craft layout flexibility and simplified civil construction.
7 .Head chain wheel adopt cogging structure blocks, 10.5 teeth, cogging is 21, both extend the life, but also interchangeable, easy assembly and disassembly, simple maintenance.
8 .operation part can ensure all aspects of improving manufacturing quality in the design, material selection and manufacturing technology, improving life.