SDB Chain bucket conveyor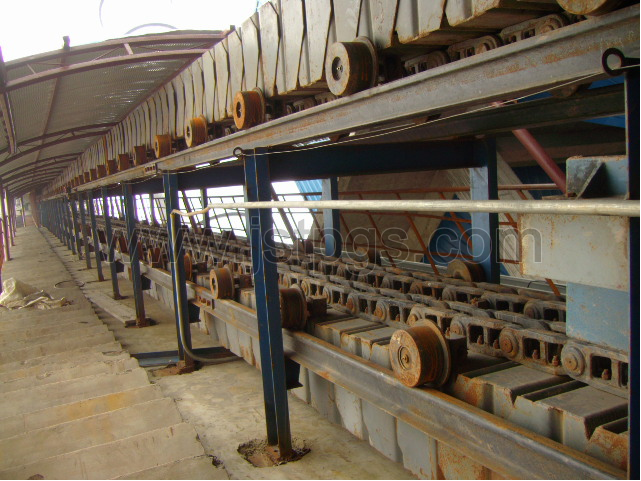 SDB Chain bucket conveyor is used for conveying sharp, abrasive, or high temperature strength(≦250℃)of granular material.In production process,the rotary kiln clinker after cooling,conveyed to clinker silo to storage, to avoid influence of production imbalance and clinker temperature, composition, changes. Cement clinker is strongly abrasive, clinker cooling temperature is still possible despite higher.So clinker storage all adopt chain bucket conveyor.The conveying inclination is≤60°.Economical inclination angle is 45°.
SDB Chain bucket conveyor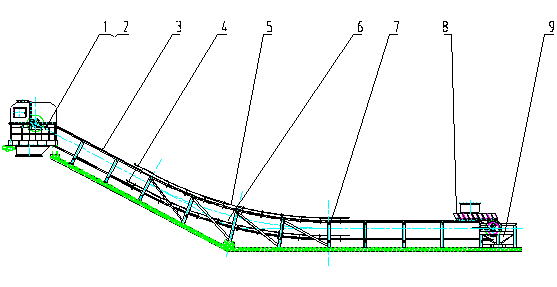 1.head unit 2.driving unit 3.upper orbit 4.lower orbit 5.upper guide rail 6.lower guide rail 7.support unit 8.tail unit 9.operation unit

technical parameter


Parameter name

Model

SDB400

SDB500

SDB600

SDB800

Conveying capacity    (t/h)

45

65

90

130

Materiel apparent density   (t/m3)

1.45


Hopper

Bucket width     (mm)

400

500

600

800

Availability bucket dimension (m3)

0.021

-

0.063

0.084

Bucket speed     (m/s)

0.24

-

0.19

0.21

Chain board distance   (mm)

400

    (m)
Max feeding length (level projection)    

38

-

60

Max feeding height    (m)

23

-

25

35

Max slant angle (º)

45

Max electromotor power (kw)

11

-

18.5

35

Rail model   (kg/m)

15

-

24
Note: for the SDB500 type part parameters vacant; type SDB600 is transitional type; design and selection of parameters in the table when demand exceeds the specified value, non first use of specifications, it should be accounting related parameters.